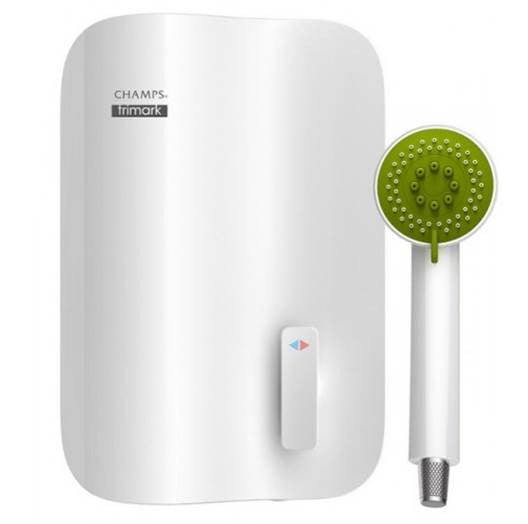 Champs
Champs Trimark Water Heater
---
Champs Trimark
IIPX5 Splash Proof
Designed and built with splash-proof safety standard that protects the internal circuits from water.
Energy & Water Saving
Saves electricity and water cost as the heater only heats up the water when in use.

High Precision Power Selector
Provides easy and precise control over the water temperature.

Anti-Scald Safety Device
Prevents water temperature from reaching scalding level and permanently cuts off power
to the heater when temperature reaches abnormal level.

Massage Shower Set
Each heater is equipped with a CHAMPS luxurious shower set for an optimal shower sensation.

Overheat Indicator
Lights up in the event the water temperature reaches scalding level.
TECHNICAL SPECIFICATIONS
| | |
| --- | --- |
| Power Rating | 3.3kW, 230V a.c. 50Hz |
| Inlet & Outlet Water Connection | Diameter 15mm (1/2" BSP) |
| Minimum Water Flow Rate | 3L / min |
| Recommended Water Flow Rate | 4 - 6L / min |
| Permissible Inlet Water Pressure | 0.1Mpa - 0.3Mpa |
| Recommended Inlet Water Pressure | 0.1Mpa |
| Dimensions (L x H x W) | 194 x 298 x 81mm |
| Weight | 900g |
Self-collection
- No additional charges
Cash on Delivery without Installation
- Delivery without installation @ $15
Cash on Delivery with Installation
- Water Heater Installation (Replacement) with Transportation fee @ $50

(Only includes installation for Water Heater with existing outlet piping. Additional charges will apply if extra piping or parts is needed. *as deem fit by the installer.)
---
Share this Product
---
More from this collection