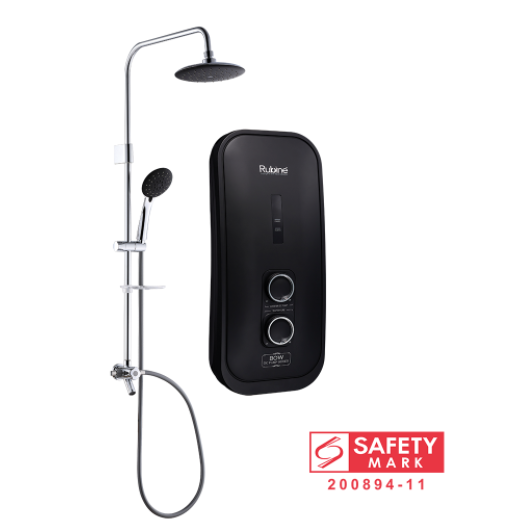 Rubine
Rubine 3388 Instant Water Heater With Rain Shower DC Water Booster Pump and Stainless Steel Two Way Tap Package
---
Rubine 3388 Instant Water Heater With Rain Shower DC Water Booster Pump and Stainless Steel Two Way Tap Package
Package includes:
1) Rubine RWH-3388BHP (Matt Black) or Rubine RWH-3388WHP (White) (Mix & Match) (Qty 2)
- Warranty: 1 Year Parts + Service / 5 Years Heating Element and Inner Tank
- Water Heater + Rainshower Column Set + Mounting Hardware

2) Arino T-1231SS Stainless Steel Two Way Tap (Qty 2)
- 5 years warranty against rust, 1 years warranty on tap cartridge against leakage
- Satin Finishing
- Lever Handle
- WELS: 3-Ticks
3) Replacement work inclusive of delivery for the above items at nett $120 only!! (Only includes for toilets with existing piping.)
*Delivery without installation at $15


Contact us now at +65 8181 6085 / +65 9780 8953 to make an order.
*OFFERS VALID WHILE STOCKS LAST*
Enjoy the feeling of a natural rain shower with the advanced technology of our new BOW 3388 instant water heater – the inverter DC pump series. This sleek design low noise DC pump water heater is the next big thing in the water heating industry; besides saving 55% of energy cost, it is also equipped with a Tri-way diverter that enables you to collect warm water for your baby bathtub or handwash clothes. It comes in 2 colors, the popular matte black and the classic white and with matching rain shower and 5 functions hand shower. Never need to complain about low water pressure again, we got everything you need to make a shower feel every bit as indulgent as the world's best bath.

Self-collection
- No additional charges
Cash on Delivery without Installation
- Delivery without installation @$15
Cash on Delivery with Installation
- Replacement work inclusive of delivery for the above items at nett $120 only!! 
(Only includes installation for Water Heater with existing outlet piping. Additional charges will apply if extra piping or parts is needed. *as deem fit by the installer.)
Contact us now at +65 8181 6085 / +65 9780 8953 to make an order.
*OFFERS VALID WHILE STOCKS LAST*
---
Share this Product
---
More from this collection